Why do we need backlinks?
Backlinks are important for search engine optimization (SEO), as they signal to search engines that other websites consider your content valuable and relevant. This can improve your website's ranking in search results and drive more traffic to your site. Additionally, backlinks can also help establish your website as a credible source of information within your industry or niche. Overall, backlinks are crucial for improving website visibility, driving traffic, and establishing credibility within the online community.
Furthermore, backlinks also help search engines understand the context of your website's content. When a website links to your page, it is essentially giving a vote of confidence that your content is valuable and relevant to the topic at hand. This means that search engines will be more likely to display your website in search results for related keywords and phrases. In other words, backlinks not only improve your website's visibility but also help search engines better understand the relevance and authority of your content.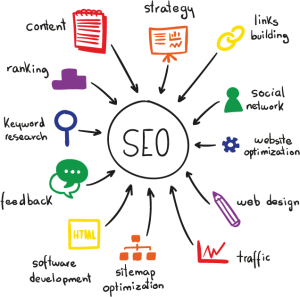 However, not all backlinks are created equal. The quality and relevance of the linking website can greatly impact the effectiveness of the backlink. For example, a backlink from a high-authority website within your industry will carry more weight than a backlink from a low-quality, unrelated website. It's also important to note that building backlinks should be done ethically and naturally, as search engines penalize websites that engage in black hat SEO tactics such as buying or spamming backlinks. Overall, while building backlinks can be a time-consuming process, it is a crucial aspect of SEO and can greatly benefit your website's visibility and authority in search engine rankings. It is important to focus on obtaining high-quality, relevant backlinks through ethical practices to ensure the best results.
One effective way to build backlinks is through guest blogging. By writing high-quality content for other websites within your industry, you can include a link back to your own website in your author bio or within the body of the article. This not only helps to establish your authority within your industry but also provides valuable exposure to a wider audience. Another strategy is to create shareable content, such as infographics or videos, that other websites may want to link to. This can increase the likelihood of earning high-quality backlinks from reputable sources. Ultimately, the key to successful backlink building is to prioritize quality over quantity and to consistently monitor and analyze your backlink profile to ensure it remains healthy and relevant. By following these best practices, you can improve your website's search engine rankings and drive more organic traffic to your site.
Google rewards websites that have a strong backlink profile, so it's important to invest time and effort into building high-quality backlinks. Remember to focus on creating valuable content and building relationships with other websites in your industry to increase the likelihood of earning backlinks. Regularly monitoring and analyzing your backlink profile can also help you identify and address any potential issues before they negatively impact your search engine rankings. With a strategic approach to backlink building, you can improve your website's visibility and attract more organic
ahrefs and semrush are great tools that can help you with backlink analysis and research. However, it's important to remember that building a strong backlink profile is a long-term process that requires patience and dedication. By consistently following best practices and adapting to changes in search engine algorithms, you can create a sustainable and effective backlink strategy that drives traffic and boosts your online presence.
USER REVIEWS
Average rating: 5 based on 41 reviews