The Art of Backlinks
The world revolves around the web. That's a fact, whether we like it or not. Virtually all of our daily communications, business, marketing, and everything else relies on the Internet. Knowledge is disseminated through the web, for both scientific and personal reasons; schools make extensive use of the Internet; it's hard to get by without a computer in today's world; and it's practically impossible to do any effective networking or . . . Well, any working without regular, if not easy, access to the Internet. This is apparent with just a glance at how many businesses and other operations have online presences.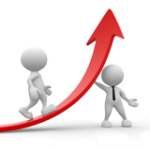 What does this mean for you? It means that you have to play your cards right to outdo the competition. The first "right play", so to speak, is to be more visible than any of your competitors. This, in turn, means that you have to play your SEO cards right. If you don't play the search engine optimization game better than your competitors, everyone will know who they are, but have no clue as to the fact that you even exist. A lot goes into playing this game the right way, but one of the most important aspects is that of managing incoming links properly. Let's take a look at what these are, how they function, and what you need to do to use them to their fullest.
Backlinks: What They Are and What Quality Is
Backlinks, put simply, are incoming links to a website or web page. It is for this reason that they are also called inbound links, incoming links, or inlinks – all these terms are synonymous. Backlinks are typically placed into content on other websites by people who want to create a rapport with your web operation or by those who want to share your content or business, for whatever reason. People sometimes try to get associates and affiliates to place backlinks to their sites on pages they manage, but given the size of the web and the number of backlinks that truly popular sites typically command, this rarely works.
You see, backlinks work as a way to rank the popularity of websites. The more incoming links a website has from other sources, the more popular it is – this is pretty obvious to see. In general, truly popular websites, like the BBC and CNN websites, or, for instance, Wired and National Geographic, have a bunch of inbound links from a variety of unrelated sources: From private bloggers, shares on social media websites, etc.
These are considered quality backlinks. That is, they are authentic backlinks, placed by actual people out of actual interest. These are the sorts of links that earn your site higher rankings according to search engines, which, in turn, results in greater exposure and significantly better business performance and the like.
USER REVIEWS
Average rating: 5 based on 41 reviews